I'm going through the change, y'all. No, not *that* one that comes to ladies of a certain age, but another one that comes to bloggers of a certain age. The dreaded/anticipated/gut-churning process that comprises a redesign of the blog.
It's happening over here, once again.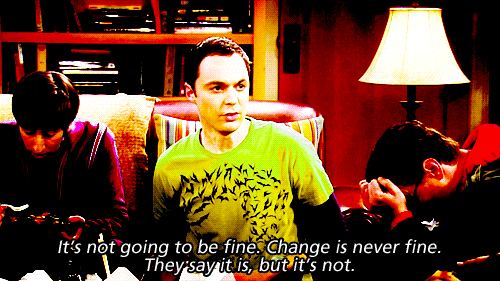 Change is good, right? Right! At least that's what I'm going with, so don't harsh my mellow.
Shush it, Sheldon!
A little background on those that are new to My No-Guilt Life (name not changing, so there's that!):
Like many wannabe bloggers, I spent a grand total of 10 minutes coming up with a blog name, signing up on a free blog site, and jumped right in with both hands typing away.
I was on the internets, y'all!
You might remember my old brand, Margaritas, Miles & the Mouse.  It was hosted on the free Blogger platform and had a really long URL and other site limitations.  The design was stale and, well, I can admit it- just bad.
How bad?  We looked a little something like this:
Yeah- you aren't imagining things.  My chevrons look drunk.
After wearing the MMM skin for a year, I knew I wanted to do more with my corner of the internet.  I still wanted to serve the community I built.  My audience was important to me.
But the time and money I was spending on the hobby felt like a disservice to my true audience:  my family. I owed them a payoff, and I began researching ways to monetize my blog and move toward creating a business.
I needed to better define my goals and message as a blogger.
So I embraced the Bloggers 3 R's: Refresh, Rebrand, and Redesign.
After much discussion, I landed on the message I wanted to build my brand around: being okay with my choices and leaving the mom guilt behind.
Remember this post? That's where I came clean about the changes that were afoot.
Rebranding and refreshing my image meant I needed a whole new look.
Ta-Da!
I also needed a whole new site.  My old page was not friendly for the monetizing blogger. I also didn't actually OWN my content there.
There's a reason it was free, folks!
I needed to find a host, create a new site, and move all my content.
So all that happened, blah blah blah rebrand, redesign, and fast forward to over two years later: the itch to change things up is going on again.
As I mentioned before, I'm not changing names. Mostly because, well, to be honest: I'm lazy.
And change that big is hard.
A total rebrand with name and URL change is way more work than I'm ready to do right now. Plus, no-guilt life is still where I'm at in life, so, hey, it works.
But I am working on new logos, a new layout, and a new look.
Where we are going: it's going to be much cleaner. I'm currently on a scale back, simplify, clean-your-life kick and my goal is to have a blog that represents that offline version of me online.
Thank you, as always, for sticking around. It's appreciated, noticed, and, well, I love you guys!